CI Jekyll Blog with Azure Devops
Why we're here
If you've read my last post you'll know that I've recently moved my blog onto the cloud with AWS S3 and Cloudfront. I used to host this blog on my raspberry pi at home but, on account of me moving house, I felt that it was time to move it to the cloud to avoid the outages involved with moving house.
Why Azure Devops?
Why not? No not really, it's just something I've been playing around with recently for work and I figured that I could learn a bit more if I was trying to build something that I know about (i.e. my blog). The first thing that I notice with Azure Devops is that it's recently become Azure Devops. Before this it was known as Microsoft VSTS. I found I was frustrated by out of date documentation so I decided to switch off the new YAML build process until they documentation is up to date.
According to https://octoverse.github.com/projects.html, at the time of writing the Azure Devops project is currently the fastest growing open source project. I'm guessing they're busy updating the documentation as I type.
octoverse
To switch off the YAML preview feature you can go to your avatar in the top right and select "Preview Features"
select avatar
This will allow you to switch off the YAML pipeline creation
yaml feature toggle
Creating the project
Click on "Create project" and give your project a name and description. I'll be keeping my project private also.
create new project
When completed you will be greeted with an overview screen. This seems to be aimed at a team workflow so I won't be doing much with this area
Import GIT repo
Now we need to get the code into a repo that Azure can read from. To do this we will go to the repos menu. I will be importing mine from bitbucket, which is where I keep my projects these days. Mostly because they can be private and I got tired of the work involved in maintaining my own GIT server.
Click on import and then get the clone url of your git repo. Paste it into the the box. My repo requires authorization so I will check this and use my credentials for this repo.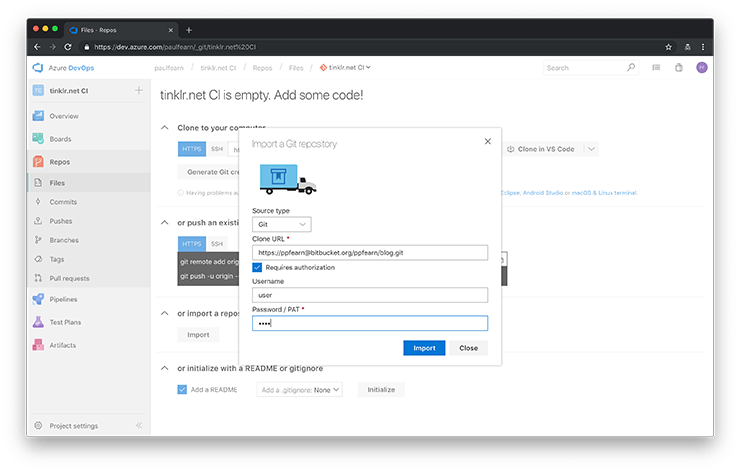 import git repo
Azure will now attempt to clone your repo:
importing
Leave GIT on bitbucket or move to Azure?
It seems as though you can link out to another repo location such as github or any other git system as long as you credentials set up. To keep things simple, I will just work on the repo in Azure for now. I may change it in the future so I can keep all of my repos in the same place. To do this I will checkout the newly created GIT repo from Azure and make any changes in that for now.
Building a pipeline
Under pipelines, select create new pipeline and choose where your repo is.
pipelines
I'll be selecting the Azure Repos Git as I mentioned above.
git repo
Select empty job from the list (at the top)
empty job
Update
I decided to link to my personal bitbucket. This was fairly straight forward, I just changed the git location in the pipeline set up. Now I can keep working in my regular repo to avoid any confusion.
pipelines
Pipeline tasks
Firstly we need ruby to build jekyll so let's add that by pressing the plus button next to our Agent Job and selecting ruby.
ruby
Then we need to add some command line tasks so find the command line task in the list and click add 3 times to add 3 tasks.
command line tasks
Next we will need an "AWS Tools for Microsoft Visual Studio Team Services" task. This last task will require a quick detour to install. Click "get it free" and then again on the corresponding site that will open up.
aws task
aws task
Select the organisation and click install.
aws task
Go back to your Azure view and refresh it. You should now be able to add a tool called "AWS S3 Upload".
s3 task
Now we can configure the build tasks.
build tasks
Ruby task
The ruby task should be fine as it is, but the rest will need some editing
Command line tasks
Command line task 1:
Display name: Install Jekyll and bundler

Script: gem install jekyll bundler

Command line task 2:
Display name: Install Gems

Script: bundle install

Command line task 3:
Display name: Build
Script: bundle exec jekyll build JEKYLL_ENV=production
command line tasks
I'm using the production environment above as this changes my sitemap to be the actual url of the site and not localhost, which isn't very helpful for a sitemap.
AWS Tools for Microsoft Visual Studio Team Services task
This is where your settings will differ to mine, I will give example where possible:
To create your credentials, click the +New button next to the drop down. You can use previously created credentials here or you can create a new one in your AWS account. I won't go into that here as there is a lot of info about this and I find that Amazon change their interface a lot so any docs I create would be out of date quickly.
The fields that I filled in are:
Connection name
Access Key ID
Secret Access Key
This should be enough to complete this section
Bucket Name: tinklr.net
Source Folder: _site
Filename Patterns: **
Target Folder: should be left blank
ACL: private
Under advanced, I will leave overwrite checked but I may want to uncheck this in the future to avoid uneccessarily overwriting existing files that haven't changed.
Click the save and queue drop down and click save Type a comment and click save
save
Now we have our pipeline created, it's time to test the whole process.
Click on builds under Pipelines and click Run.
run a build
Select the branch you wanto build and click queue
run a build
Click on the build in the list and you can see the console and follow the build through
agent console view
Hopefully upon completion you should see a successful response.
success
A quick check in the S3 bucket shows that the files have been updated.
s3 files updated
I changed the branch to build on any change to the release branch of my project.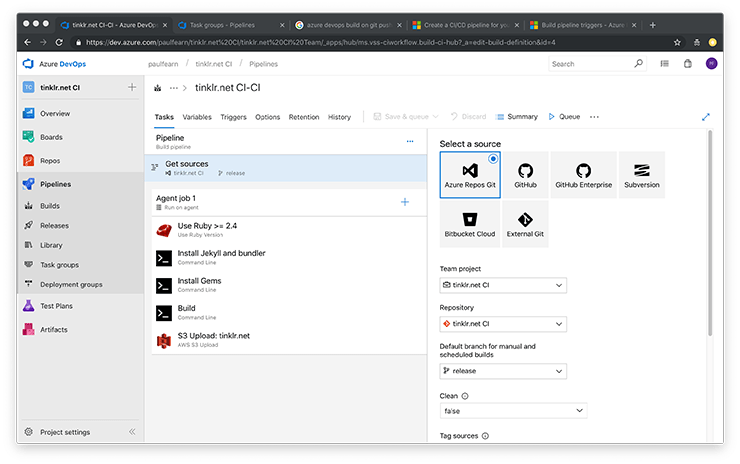 switch branch
Now we need to switch on continuous integration. Under Triggers enable to continuous integration.
ci switch
Now whenever I make a change to this branch (i.e. push a code change to the branch), it will be built and pushed out to the S3 bucket.